Angie Barnwell-Wilkinson is owner of L's On Augusta
Angie was a vintage clothing dealer during the late 1980s through the 1990s. Those days in Greenville, South Carolina, vintage clothing was easy enough to come by but many box-lots and batches of vintage ended up in the landfill. Vintage apparel was mostly unwanted by estate auctioneers and others appointed the chore of liquidating household furnishings and personal belongings. Angie focused on clothing and accessories dating from the 1800s to the 1950s. Clothing was found at estate sales, auctions and yard sales. She was a busy picker in those days, filling rented storage space with racks and racks of vintage fashion, from flappers to Simplicity dresses, costumes and accessories from heirloom jewelry, bakelite, metal mesh and chainmail purses — Whiting and Davis was an obvious favorite — to corsets, shoes, hats and more.



PHOTO above left: Visiting Steve Ferrell in Edgefield, SC to look at bakelite. Right: bits and pieces, including a pic of Angie's mum in England.
During earlier years, a popular vintage clothing dealer in Greenville, Vee Edwards, operated a shop where vintage could be found mixed with more current clothing , accessories, small antiques, furniture and a range of cool curiosities. Edwards' store moved from time to time over the years but many will recall its location next to a BI-LO grocery store on Augusta Street, near the historic Lewis Plaza shopping center. Augusta Village now stands at this location, a small plaza including Augusta Grill, Legrand Bakery, Vino & Van Gogh and others. The BI-LO grocer stood on a section of the property where the Augusta Road Harris Teeter is today.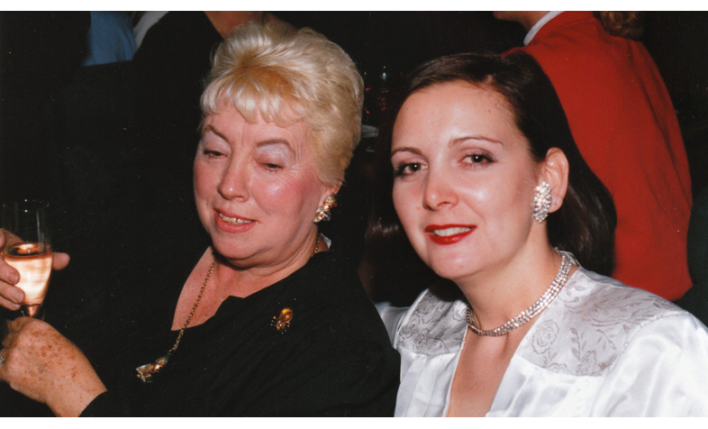 PHOTO above: Vee Edwards (left) and Angie Barnwell (right). (1988)
L's On Augusta Women's Consignment is located in the same location where Anne Merchant's shop, Time Warp, used to be several years ago. Anne Merchant's Time Warp was another popular vintage clothing and thrift shop. Anne Merchant passed away in 2010, she was adored by her many friends.
As owner of L's On Augusta, Angie's fashion background inspired her to offer a store for women who seek out thrift, vintage and consignment shops because they're looking for a deal on something they want to wear, they want quality clothes and they want to make the clothing cycle last.
L's On Augusta opened in April 2009 and remains at 1517 Augusta Street, Greenville SC. The shop is only 1.3 miles from downtown and Falls Park.